- We Want to Contribute to Reducing Drug Lag in the Medical Field -
There are many medications which are in standard use around the world that are still unavailable in Japan. The condition of this drug lag is improving little by little, but Japan still has not approved a number of medications which are globally recognized. Drug lag is definitely not something that has been eliminated quite yet. And not just for medication, but there is also delay in the introduction of new technologies from overseas, as well as access to materials from essays and conferences abroad, which are so important for researchers and health care providers. All kinds of information from abroad is delayed in reaching Japan. There is a lag in this area, too.
Hausten Healtcare LLC want to contribute as much as possible to the elimination of this lag in the medical field as a whole, including drug lag and information lag as discussed above.
The first step we are taking in this process, as an addition to our medical supply business which delivers approved Western drugs and medical equipment to doctors, we are developing training programs for new techniques from abroad.
We maintain a license as an American medical supplies wholesale dealer, and in cooperation with pharmaceutical companies, other wholesalers, and university hospitals, we obtain all our supplies pure and direct from the manufacturer. We are also connected to the latest information and technology news.
Also, our experienced staff will support Japanese medical professionals in all the necessary tasks related to importing medical supplies.
Regarding delivery of medical supplies, even if the drugs are not approved for use in Japan, with the cooperation of doctors, a special importation permission can be issued, allowing for medicines from overseas to be imported and used. However at our company we do business in compliance with the law, and in every case where this special importation permission is required, we will insist on its acquisition before making any deliveries.
We promise to work for the benefit of all patients and doctors, delivering genuine medical supplies and useful information from overseas while strictly adhering to the laws of both Japan and the United States.
Hausten Healtcare LLC
Hausten Healtcare LLC
License
Our company holds a license as a wholesale dealer of American medical supplies.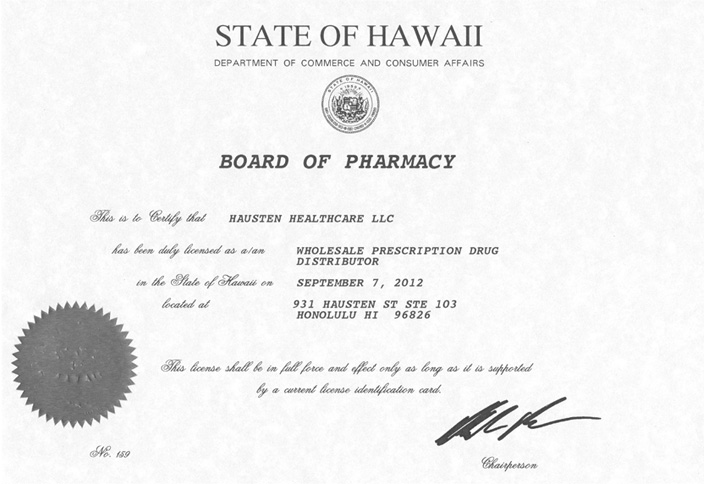 Available Medical Supplies
Hausten Healthcare currently handles medical supplies related to the fields below.
■Dentistry Products
・bone prosthetic materials, membranes and other dentistry materials
■Medical Equipment
・catheters, testing and examination supplies, etc.
■Obstetrics and Gynecology, Beauty
・Supplements, etc.
Medical supplies and equipment other than those noted above are also available. For more details, please contact us.
Frequently Asked Questions
Q.

Isn't it illegal to import drugs and medical supplies that aren't approved for use in Japan?

A.

Even if medical supplies are not approved for use in Japan, if a doctor chooses to import them for a patient's treatment, the Ministry of Health, Labor and Welfare can give a special importation permission on a case by case basis. In this way these medications can be imported legally. At our company we never import supplies without these special permissions.

Q.

I've heard that getting importation permission and customs clearance can be a difficult process. Is this true?

A.

Our company will support you in all the delicate processes of filing the application for importation permission, getting customs clearance, and any other necessary procedures, so don't worry.

Q.

Can medical supplies be delivered directly to patients' residences?

A.

We cannot deliver medical supplies to patients' residences. Medical supplies may only be delivered to a medical institution in which doctors are on duty. We appreciate your compliance and understanding of our company policy on this point.

Q.

Can a person who is not a doctor, but a patient directly import or purchase medication for themselves?

A.

We are unable to deliver medical supplies to patients directly. We only supply to licensed physicians. This is because we feel that in order to protect patients' health and safety, medical treatment must always be mediated by a doctor. Please consult with your doctor first.
For questions other than those above, please contact us individually.